This weekend has been lovely! Beautiful, sunny and warm with a slight breeze! I am so excited for tomorrow (and not because it's back to work, lol) my E2 will be
here!
Well anywho, I went to Scrappin' Happily Ever After, and Ivy got in some Wonderful new things! Jenny Bowlin inks for Ranger! I purchased one of each of the colors Ivy got in stock.
Then I went to a class she had, and all I can say is Wow! I loved this class so much! What I am about to show you is NOT the completed project because it is missing the crackled picture frame because it was not quite dry yet so I'm going back today to pick it up and attending a photography class(point and shoot, how to take better pictures with a digital camera) so excited!
I hope you like the project so far!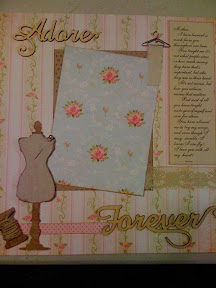 - Posted using BlogPress from my iPhone